Drug Store - Pharmacy & Billing Management Web Application v1.0
Drug Store is a pharmacy management system developed with PHP. Drug Store theme is an affordable solution to help grow your business and track your store data like stock, purchases, billings and report, purchase report and so many things. It store all of your pharmacy data for easy retrieval and tracking including your Medicines, Employees, Customers, POS/Bill, Invoice, Purchase, Stock adjustment, Accounting, Expenses, Attendance, Payroll, Attendance, Reports and Users. You can create multiple admin role. Manage all from one simple yet powerful application.
Drug Store - Pharmacy & Billing Management Web Application
Download free Drug Store - Pharmacy & Billing Management Web Application v1.0
---
Inventory/Medicine Management
Point of Sales/Billing (POS)
Invoice Management
Purchase Management (Batch Wise)
Stock adjustment
Live Stock, Expired Stock, Upcoming Expire Stock month wise
Update Stock manually
Expense Management
Payroll/Staff Salary Management
Send Single/Bulk Email
Customer Management
Predefined Taxes, Payment Methods, Expense types, Invoice items etc,
Noticeboard
Attendance Management
Advanced dashboard for admin role
Report Management
Date to date report generate
Bill report
Invoice Report
Purchase Report
Expense report
Sales Report
All Income & Expenses Statistics
Inventory Report
Out of Stock Report
Multiple Admin User and Multiple User Role
Easy Settings like Timezone, Date format, Currency and Invoice settings
Theme Customization
Responsive Design
Easy to Customize
Fully Customisable
Cross Browsers Compatible
HTML5 & CSS3 Optimized
Clean & Simple
Much More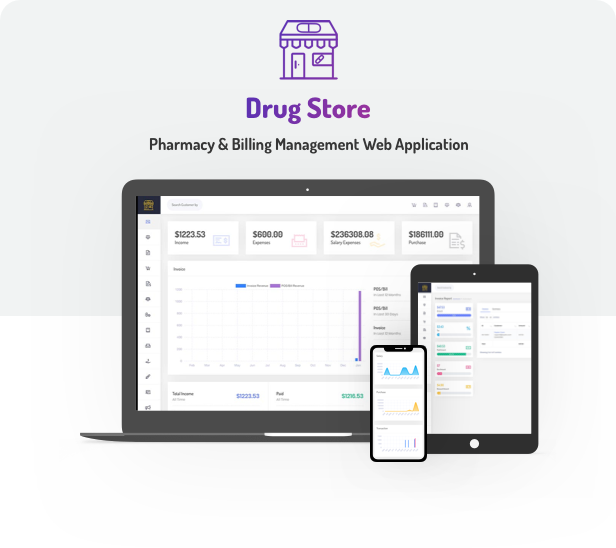 ---
on the site are taken from open sources. The site does not contain files for download. All links to files from open sources. Owners of copyrights to the material may request removal of the post from the site.